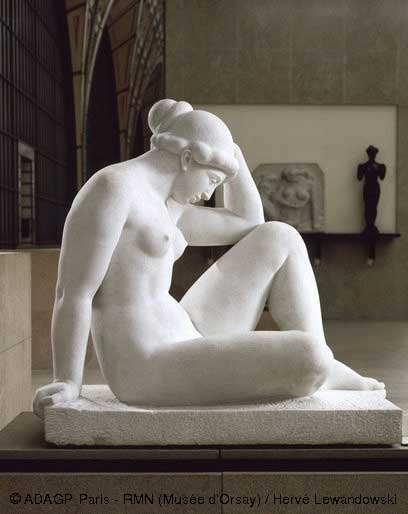 Mi sueño
Sueño a menudo el sueño sencillo y penetrante
de una mujer ignota que adoro y que me adora,
que, siendo igual, es siempre distinta a cada hora
y que las huellas sigue de mi existencia errante.
Se vuelve transparente mi corazón sangrante
para ella, que comprende lo que mi mente añora;
ella me enjuga el llanto del alma cuando llora
y lo perdona todo con su sonrisa amante.
¿Es morena ardorosa? ¿Frágil rubia? Lo ignoro.
¿Su nombre? Lo imagino por lo blando y sonoro,
el de virgen de aquellas que adorando murieron.
Como el de las estatuas es su mirar de suave
y tienen los acordes de su voz, lenta y grave,
un eco de las voces queridas que se fueron...
Il mio sogno familiare (it)
Spesso mi viene in sogno bizzarra e penetrante
Una donna mai vista, che amo e che mi ama,
Che con lo stesso nome si chiama e non si chiama
Diversa e uguale m'ama e sempre è confortante.
È per me confortante, e il mio cuore parlante
Per lei soltanto, ahimè! Non è più cosa grama
Per lei soltanto, in fronte del sudore la trama
Lei soltanto rinfresca, con le lacrime piante.
È bruna, bionda o rossa? Non mi è dato sapere.
Il suo nome? Ricordo che è dolce e dà piacere.
Come nomi diletti che la vita ha esiliato.
All'occhio delle statue è simile il suo sguardo,
Ed ha la voce calma, lontana, grave, il fiato
Delle voci più care spente senza riguardo.

"My Familiar Dream" (english)

I often have this dream, strange and engrossing dream
An unknown woman, whom I love and loves me, and
Every time, she is never quite the same it seems
Nor wholly different, she loves me and understands.

She sees within me, for her, my heart is crystal
Just for her, alas! It's no longer an issue
Not for her, and when my pale brow beads with hot dew
She alone knows how to cool it, as her tears fall.

Brunette, blonde, or auburn? – I can't say, don't ask me.
Her name? It's sonorous and sweet, as I recall
Like the names of loved ones, whose brimming cups were spilled.

Her gaze, like that of a statue, veiled in mystery.
Her voice, is distant, quiet and grave when she calls,
Echoing tones of beloved voices now stilled.

Mon rêve familier (french)

Je fais souvent ce rêve étrange et pénétrant
D'une femme inconnue, et que j'aime, et qui m'aime,
Et qui n'est, chaque fois, ni tout à fait la même
Ni tout à fait une autre, et m'aime et me comprend.
Car elle me comprend, et mon cœur, transparent
Pour elle seule, hélas ! cesse d'être un problème
Pour elle seule, et les moiteurs de mon front blême,
Elle seule les sait rafraîchir, en pleurant.
Est-elle brune, blonde ou rousse ? — Je l'ignore.
Son nom ? Je me souviens qu'il est doux et sonore
Comme ceux des aimés que la Vie exila.
Son regard est pareil au regard des statues,
Et, pour sa voix, lointaine, et calme, et grave, elle a
L'inflexion des voix chères qui se sont tues.
Paul Verlaine, Poèmes saturniens: Mon rêve familier